Significant Silver Rallies Usually Follow Major Dow Peaks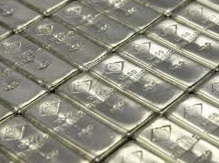 Significant nominal peaks in the price of silver tend to come after significant nominal peaks in the Dow. This has been the case for the last 90 years at least.  
It is no coincidence that significant silver rallies follow after significant Dow rallies end. It is simply a natural reaction to what caused the stock market rally as well as the effects of that rally. So, if it happened before, it will certainly occur again.
These stock market rallies are driven by the expansion of the money supply, causing a big increase in value of paper assets (including stocks) relative to real assets. When the increase in credit or the money supply has run its course, and is unable to drive paper price higher; value then flees from paper assets to safe assets such as physical gold and silver, causing massive price increases.
Below is a 100-year inflation-adjusted silver and gold chart (generated at macrotrends.net):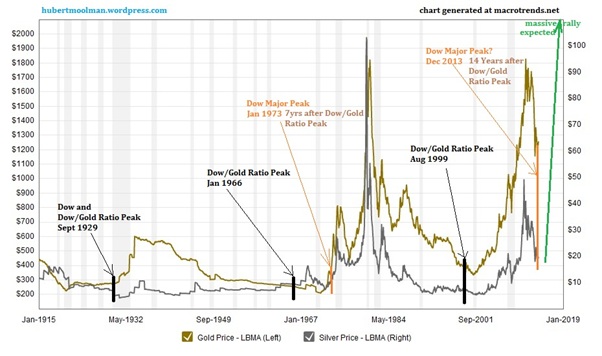 On the chart, I have indicated where the Dow/Gold ratio peaked, in 1929, 1966 and 1999. Significant silver (and gold) rallies eventually followed after all of those peaks. The rally after the 1929 Dow peak, ran until 1934. It is important to know that the Dow also peaked when the Dow/Gold ratio peaked in 1929.
The silver rally after the 1966 Dow peak, ran until 1980. In this case, the Dow's major peak (in 1973) only came 7 years after the Dow/Gold ratio peak. Note that a big rally actually came right after the major Dow peak of 1973.
After the 1999 Dow peak, we certainly had a silver rally, which started in 2001. To date, the Dow has made a major peak only 14 years after the Dow/Gold ratio peak of 1999. The peak I am referring to, is the one of December 2013. Already we can see that there is some kind of progression as to how long Dow peaks occur after the Dow/Gold ratio peaked – first at the same time, then 7 years after and now already 14 years after.
Based on the past price action, we could have a massive silver rally when the Dow has peaked, just like it did in 1973. The question as to whether the Dow actually peaked in December 2013; therefore, becomes very important. The current similarity of the Dow and gold is a topic I am continuously dealing with in my premium service, and appears to agree with the above scenario.
If the Dow has not yet peaked, it does not mean that we will not have a silver rally. All it means is that we will have to wait a little longer. So, as I have said many times before, it is the Dow that holds the key to the future of gold and silver, at his moment.
********
For more on this topic, and similar analysis you are welcome to subscribe to my premium service. I have also recently completed a Long-term Silver Fractal Analysis Report .
Hubert Moolman is a self-taught gold and silver analyst who writes a precious metals newsletter specializing in fractal chart analysis and monetary fundamentals (especially gold and silver). He has a background as a Chartered Accountant, and managed his own firm for 9 years. He also has a website that publishes educational articles on gold, silver and the dangers of fiat money.
More from Silver Phoenix 500: