Silver Becomes The Favored Metal Of Reddit Day-Traders
•The best performing precious metal for the week was silver, up 5.86%. The Reddit day-traders discovered silver this week after sending GameStop and other stocks soaring. Comments appeared on Reddit on Wednesday calling the iShares Silver Trust the "biggest short squeeze in the world," citing banks as manipulators of precious metal prices. On Thursday while the iShares Trust gained as much as 7.2% and spot silver up 6.8%, prop traders likely piled into the trade too to take advantage of the momentum change.
Strengths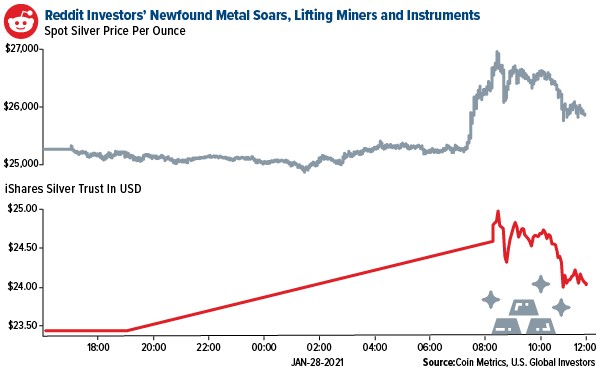 •The World Gold Council (WGC) said in its 2021 outlook report that it expects gold demand to rebound from an 11-year low. Analysts say China's economic recovery is already supporting an increase in gold jewelry demand. Gold consumption fell dramatically in 2020 due to record high prices and the pandemic taking a toll on economies.
•Newmont Corp. retained its top spot in the ESG ranking of miners, according to London-based Alva. Diamond giant De Beers came in second and Rio Tinto Group improved its score from the prior year. Proving to investors they are making strides toward sustainability is growing in importance. ESG and value-focused exchange traded funds recorded net inflows of $89 billion in 2020, almost three times 2019 levels, according to Bloomberg Intelligence.
Weaknesses
•The worst performing precious metal for the week was palladium, down 5.37%. Gold is set for its worst January in a decade. The U.S. dollar was supported by the Federal Reserve keeping its monetary policy unchanged of bond-buying at $120 billion per month. Bullion lost as much as 3% in January.
•Precious metals ETFs saw big outflows the week ended January 28, with investors withdrawing $819.9 million. The SPDR Gold Shares had the biggest outflow of $55.1 million, according to data compiled by Bloomberg.
•Fresnillo shares fell as much as 5.4% on Tuesday after RBC cited lower guidance as a key focus for the miner. Production forecasts for 2021 were 10% less than consensus and RBC analyst Tyler Broda said project delays need to be watched.
Opportunities
•GV Gold PJSC, a Russian gold miner backed by BlackRock, has revived plans for an IPO and hopes for a valuation above $1 billion, reports Bloomberg. The miner is controlled by the owners of Lanta-Bank and has projects at several Siberian deposits. The company produced around 260,000 ounces of gold in 2019, ranking it among one of Russia's biggest 10 miners.
•Heraeus, a precious metals refiner, expects gold to hit a high of $2,120 an ounce this year due to stimulus efforts from central banks and a recovery in jewelry demand. In a report, Heraeus said it sees silver outperforming gold to top $36 an ounce and platinum could hit $1,200 an ounce.
•Goldman Sachs says global demand is now above supply in every major commodity market, apart from cocoa and zinc. "As long as demand is above supply and inventories are drawing, commodity returns will continue to accrue," analysts say. Silver remains the bank's preferred precious metal as it benefits from both debasement and a green energy led industrial recovery.
Threats
•Zimbabwe has reintroduced a controversial law that could force miners to sell majority stakes to local black investors, reports Bloomberg. Regulatory changes discussed last month would allow ministers of finance and mines the discretion to "prescribe" minerals that should be 51%-owned by indigenous investors. Zimbabwe holds the world's third-largest known reserves of platinum-group metals, plus deposits of gold and diamonds. Investors have held back from spending on large projects even after the government appeared to soften the local ownership law in 2017. Such ownership laws deter foreign miners from operating in the country.
•In more Zimbabwe news, mining companies said a central bank rule compelling them to surrender more foreign exchange earned from mineral exports will push operations toward unviability. Bloomberg reports that on January 8 the government announced exporters must give 40% of foreign currency earnings, up from 30%, which is then paid out in the local currency.
•A growing chorus of big-name investors are throwing their weight behind Bitcoin, creating a threat to gold's status as an alternative and "safe-haven" asset. Bridgewater Associates founder Ray Dalio said in a note this week that Bitcoin is "one hell of an invention" and said he's considering crypto investments for new funds offering clients protection against currency debasement. "To have invented a new type of money via a system that is programmed into a computer and that has worked for around 10 years and is rapidly gaining popularity as both a type of money and a store hold of wealth is an amazing accomplishment," Dalio wrote.
*********
More from Silver Phoenix 500