Silver Is Catching Its Bid
Strengths
The best performing metal this week was silver, up 4.78 percent. Silver had been somewhat detached from gold's price changes, but now with recession odds rising, silver is catching its bid. Gold traders and analysts were bullish on their outlook for the yellow metal this week as it set a new six-year high above $1,500 per ounce. The metal saw a second straight weekly gain, fueled by uncertainty surrounding global trade tensions and monetary policy. Investors have taken notice of the rally with ETFs backed by gold growing holdings for nine straight days. Bloomberg reports that total gold held by ETFs rose 8.5 percent this year to 77.1 million ounces, the highest level in at least 12 months. SPDR Gold Shares, or the GLD, saw five straight days of inflows this week totaling a whopping $1 billion.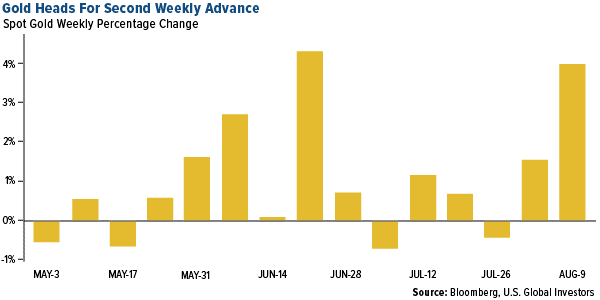 Gold rose as much as 1.6 percent on Wednesday to above $1,500 per ounce, the highest since 2013. Wayne Gordon, executive director for commodities and foreign exchange at UBS Group, says "gold is serving its traditional role as a safe-haven asset" as the trade war tensions continue to heat up.

Speaking of trade war, China continues to add more gold to its reserves. China's central bank bought more gold in July, marking eight straight months of buying and a new total of 62.26 million ounces in holdings. Why might be China buying gold? Perhaps because it's output for the first half of the year fell 5 percent year-over-year, to 180.68 tons, according to the China Gold Association. Russia also bought more gold in July. Its official reserve assets sat at $519.8 billion in July, up from $518.4 billion a month earlier.
Weaknesses
The worst performing metal this week was palladium, but still closed up 1.14 percent as traders reduced their net-long futures position to a seven-week low. Turkey's central bank gold holdings fell $248 million from the previous week—a sharp reversal after increasing by $164 million the week before that. Bloomberg reports that India's gold imports in July fell to the lowest monthly inflow in more than three years as demand is hampered by higher prices in the domestic market. Remember: India is the world's second largest consumer of the metal.

In the week to August 7, equity funds worldwide saw outflows of $25 billion, which is the most redemptions since the start of the year, according to Bank of America strategists citing EPFR Global data. Fifteen billion dollars of that was in U.S. equity funds. On the upside, gold funds saw inflows of $2.3 billion in that same time period—the fourth biggest weekly inflow ever.

Iamgold Corp. cut its attributable gold production forecast for the full year and reported second quarter production of 198,000 ounces, down 7.5 percent year-over-year. Iamgold's share price tumbled over 14 percent on the disappointing news.
Opportunities
Taking another look at the gold-to-silver ratio, let's remember what happened in summer 2011. There were major fears of a recession, big concerns about Europe and a surge in the Swiss franc, which led to both gold and silver hitting post-crisis peaks. Since then, the ratio has been falling. Bloomberg's Joe Weisenthal thinks the ratio could have room to run now if things continue as they are. Could silver see more upside than gold? Bloomberg's Eddie van der Walt writes that silver has outperformed gold over the last month and appears to be reestablishing its positive beta, which could mean if gold rallies, silver will rise faster.

What's worrying some investors? China buying more gold and the falling copper-to-gold ratio. China stocking up on bullion, often seen as a safe haven asset, and diversifying away from the U.S. dollar could mean that the country is gearing up for a prolonged trade conflict and currency war. The copper-to-gold ratio is often used as a sentiment barometer for the global economy, and the ratio has now fallen back to levels last seen in November 2016, right before President Trump won the election. Both of these factors boost gold's demand as a safe haven.

Goldman Sachs continues to be a gold bull. Analysts predict that gold will climb even further to $1,600 per ounce by the end of this year as investors continue to seek haven assets, reports Bloomberg. Last week Bank of America Merrill Lynch analyst Michael Widmer said that gold could even climb toward $2,000 in the next two years due to dovish central banks and the growing amount of negative-yielding government bonds.
Threats
Bloomberg's Anchalee Worrachate writes that President Trump's trade war with China is also turning into a currency war and that it would be hard for him to win both those battles. If the yuan weakens further, it might prompt the U.S. to intervene, which it hasn't done since 2000. UBS strategists wrote in a note this week that "the more likely outcome of the explicit currency war would be further extension of uncertainty, which ironically could prove to be dollar-positive if risk assets fear weaker growth and volatility pushes higher."

AngloGold Ashanti's CEO says that it's been difficult to sell assets in the current market. CEO Kelvin Dushnisky says "it's a more challenging market in terms of divestment, as opposed to years ago, because of speculation on potential assets coming into the market." On Monday, around 5,000 protesters gathered outside a planned mine site owned by Dogu Biga Mining, the Turkish subsidiary of Alamos Gold Inc., to oppose the gold for environmental reasons.

Concerns about the New York Fed keep growing, according to a piece by Bloomberg out this week. Just months ago two longtime officials departed suddenly, which shook staff, sank morale and then drew attention to leadership of the Fed under John Williams. Concerns are growing of his background, which lacks experience in the finance industry. The New York Fed is important as it serves as the central bank's eyes and ears on Wall Street and is the only regional bank with a permanent vote on rate decisions.
*********
More from Silver Phoenix 500