Silver Forecast & Silver Miners Prediction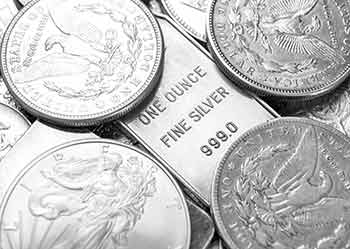 Silver Forecast: Last month Ross Clark and I had a long discussion about where we forecast silver price to be in 2014. Interestingly enough, we both has a similar prediction. Both of us have been watching silver like a hawk because historically the more silver lags and underperforms that of gold, the more bullish our silver forecast was in the long run.
The point of this article is to make you aware of a possible major breakdown in the US dollar index and to provide you with a silver forecast. If the dollar chart does in fact break down then we will see the Euro rally and see commodity based currencies like the Canadian dollar, and Aussie dollar rally. This would also be bullish for commodities in general.
The US dollar index is clearly showing a topping pattern which if broken will trigger a waterfall sell off in price.
Critical support is at 79.50 which if breached should start a major wave of selling in the next few months. I predict the initial wave of selling should take price all the way down to the 78.00 level before price has its first pause. Last week I posted a similar article to this but it was my gold forecast.
*Trade Tip*

Most technical analysis books teach that the more times a support trend line has been touched the stronger it becomes. That actually could not be any further from the truth.
Let me tell you how to trade trendlines.
1. You must have at least two pivot points (highs or lows) to be able to draw a trendline.
2. The 3rd and 4th touch of this line can be traded for a bounce.
3. Any touch of the trendline after the 4th is actually doing damage as it eats up the support volume.
4. A rising trendline like the one below clearly shows multiple pivot lows that when breached will trigger stops and flood the market with supply/sellers. It's the perfect storm for a downward move.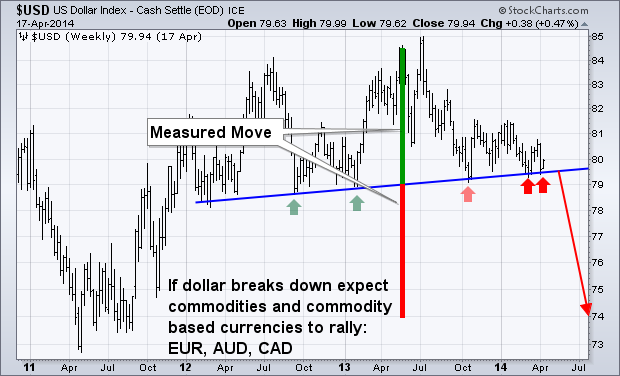 Silver Forecast
My silver forecast has not changed in nearly a year. I continue to wait for the silver market to bottom and prove it's self by breaking out of its basing pattern.
The bullish silver forecast is of the bigger picture looking forward 1+ Years. Most silver and gold market traders get caught up with the daily and weekly price action and are starting to give up on this range bound trading which silver has been in for the past year.
In 2011 I pointed out the major topping pattern in silver, and that if price were to fall below the 2011 lows, then it would take at least a year if not two before silver would build a new bullish basing pattern to start another bull market. And that leads us to my current silver forecast.
While I am bullish on silver, we must not get overly excited until silver can rally and breakout of this large basing patter. But if the price of silver breaks down, $15 per ounce is not out of the question. I don't pick tops or bottoms, and I try not to trade much when an investment is trading sideways.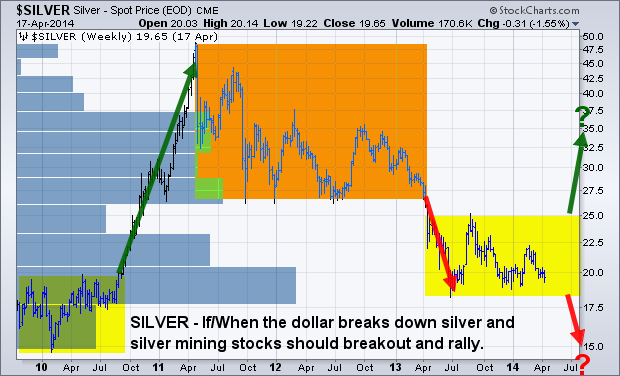 Silver Forecast for Miners
Silver mining stocks are very difficult to trade, mainly because they are so volatile. It is not easy to stomach large percent moves on a daily basis. But in reality that is just how silver and silver stock move.
Looking at the chart below you will see the bullish percent index and making lower highs and lows during 2011. Also you will see that silver and gold miners showed a clear topping pattern.
I expect silver miners to trade in a similar choppy price pattern to 2011, for a few months and then start a new bull market.

Silver Forecast Conclusion:
In short, my silver forecast should be looked at from the big picture perspective. Getting involved in any silver stock, commodity or investment that is trading is a sideways range does carry more risk than you think. It is easy to get shaken out of these positions several times before the new bull market emerges and your capital could be tied up for months if not years as you wait for the new trend to start.
The best time to enter a trade is when silver breakout of the basing pattern (yellow rectangle), only then can silver traders get heavily involved to the long side.
Get My Weekly Silver Forecast FREE – www.GoldAndOilGuy.com
Chris Vermeulen
FREE Silver Phoenix 500 Newsletter!
Fresh insights on the Silver market and the economy
Leading authors from around the world
Free, we do not share or sell you email address. Ever.
Stay informed!!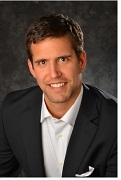 Chris Vermeulen has been involved in the markets since 1997 and is the founder of Technical Traders Ltd. He is an internationally recognized technical analyst, trader, and is the author of the book: 7 Steps to Win With Logic
Through years of research, trading and helping individual traders around the world. He learned that many traders have great trading ideas, but they lack one thing, they struggle to execute trades in a systematic way for consistent results. Chris helps educate traders with a three-hour video course that can change your trading results for the better.
His mission is to help his clients boost their trading performance while reducing market exposure and portfolio volatility.
He is a regular speaker on HoweStreet.com, and the FinancialSurvivorNetwork radio shows. Chris was also featured on the cover of AmalgaTrader Magazine, and contributes articles to several financial hubs like MoneyShow.com.
More from Silver Phoenix 500: