Silver Price And Miners Are Likely To Bottom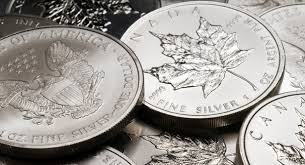 We have been expecting a Biannual Cycle Low (BCL) sometime this spring. Next week is critical in determining the silver price direction over the next few weeks. March 18th holds particular importance being a Fed day. There will be significant volatility next week…and a powerful snapback rally is possible. When the BCL arrives, either sooner or later the green box is our potential Target area. 
Silver Weekly Chart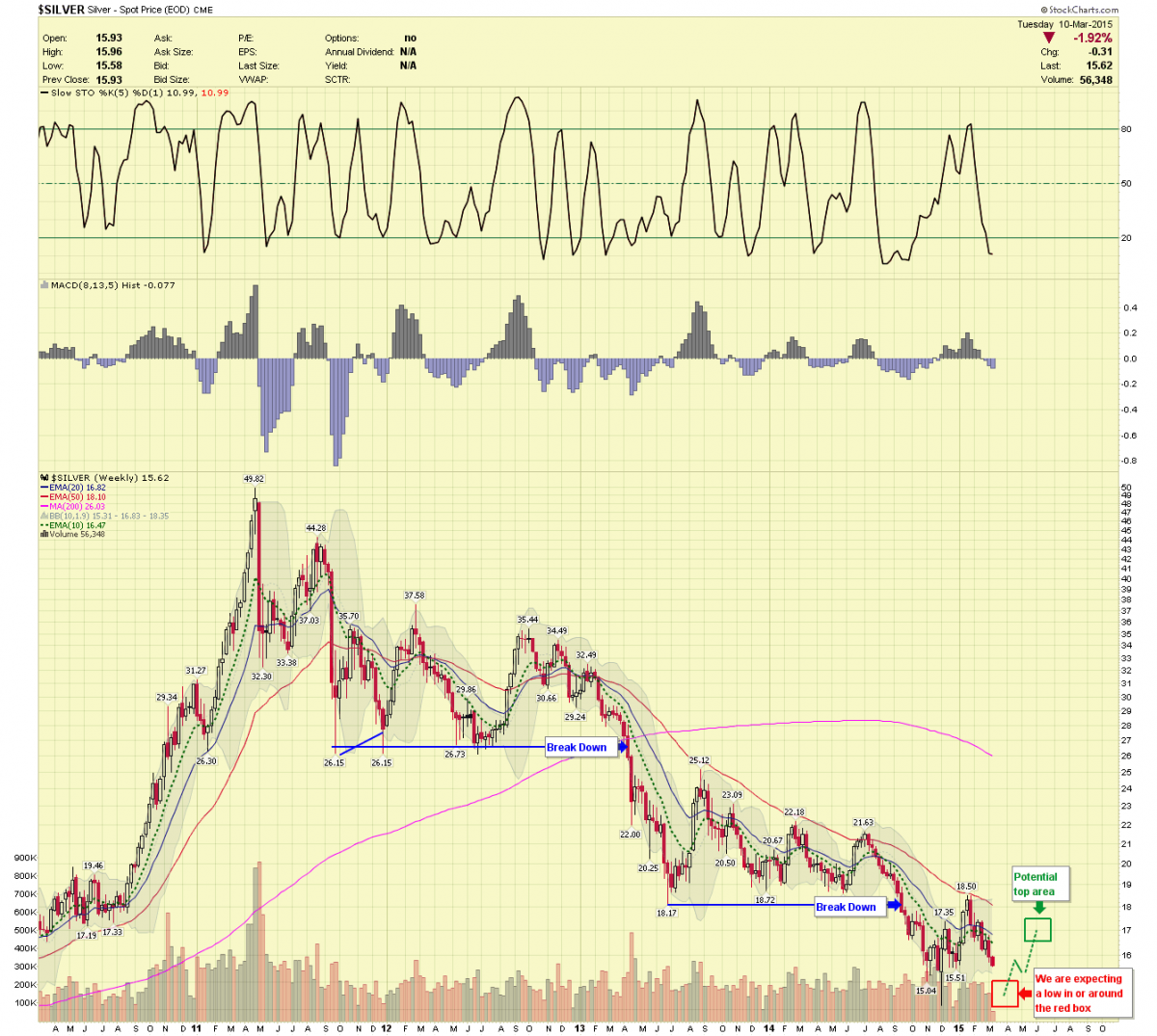 http://www.silver-phoenix500.com/sites/default/files/wellington031215-1.pngThe silver daily chart shows the current circumstances more clearly. In it you will see the possibility of forming the Biannual Cycle low between next week and the end of March. There is also the snapback rally scenario (mentioned above), where silver prices explode higher in a short covering rally, lasting to the end of March. If this were to happen, price would likely fail, continuing lower to form the Biannual Cycle low in Late April or Early May. Our Chartseek.com Example Portfolios will likely take positions next week.
Silver Daily Chart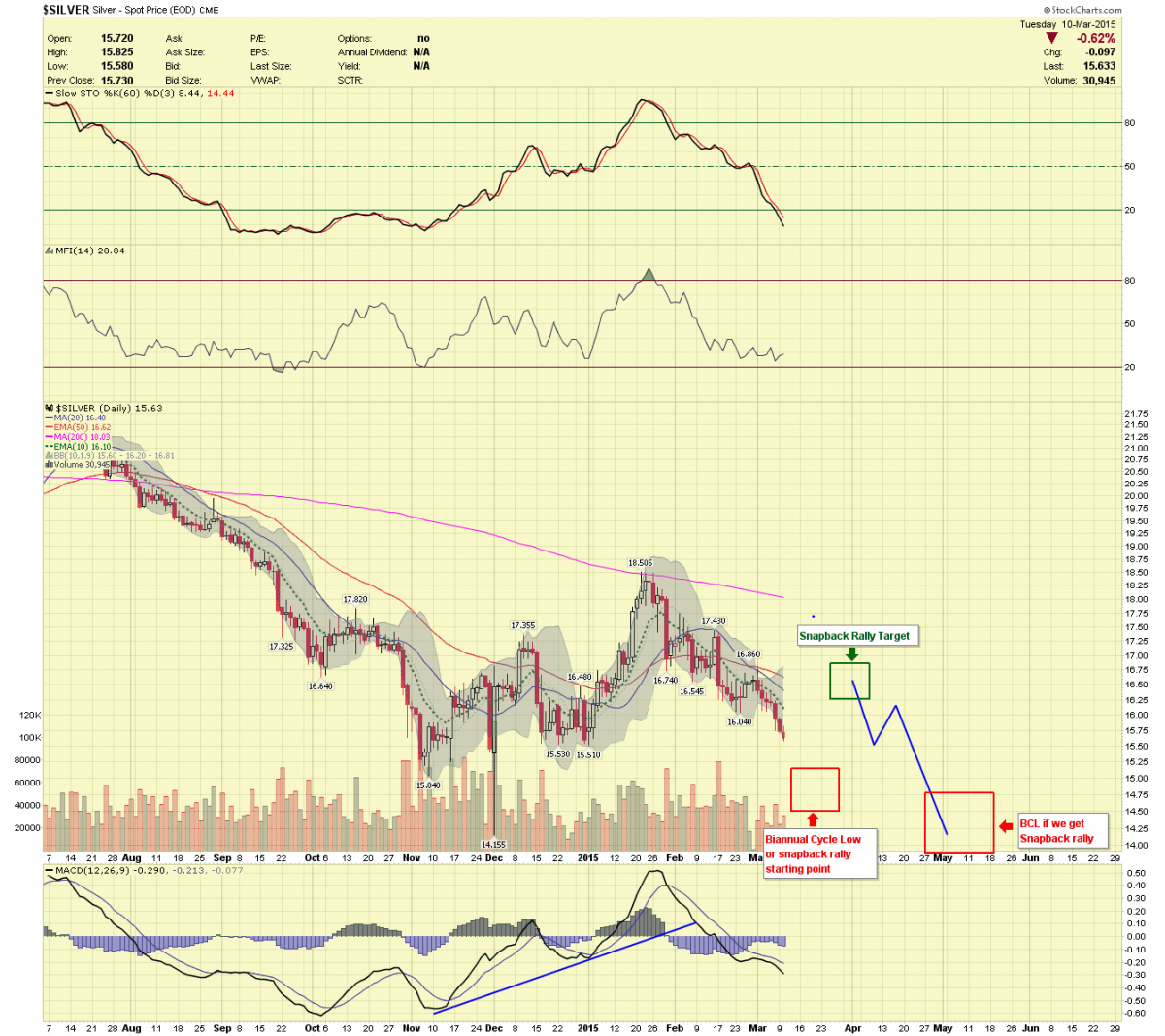 The big picture for miners shows the $HUI nearing the previous 2008 low. A monthly close below this level will indicate lower levels lie ahead. We will reevaluate where the chart stands with the end of month closing price. There are two likely stopping points if prices do close below major support.
1) at $125 level
2) at $100 level
HUI Monthly Chart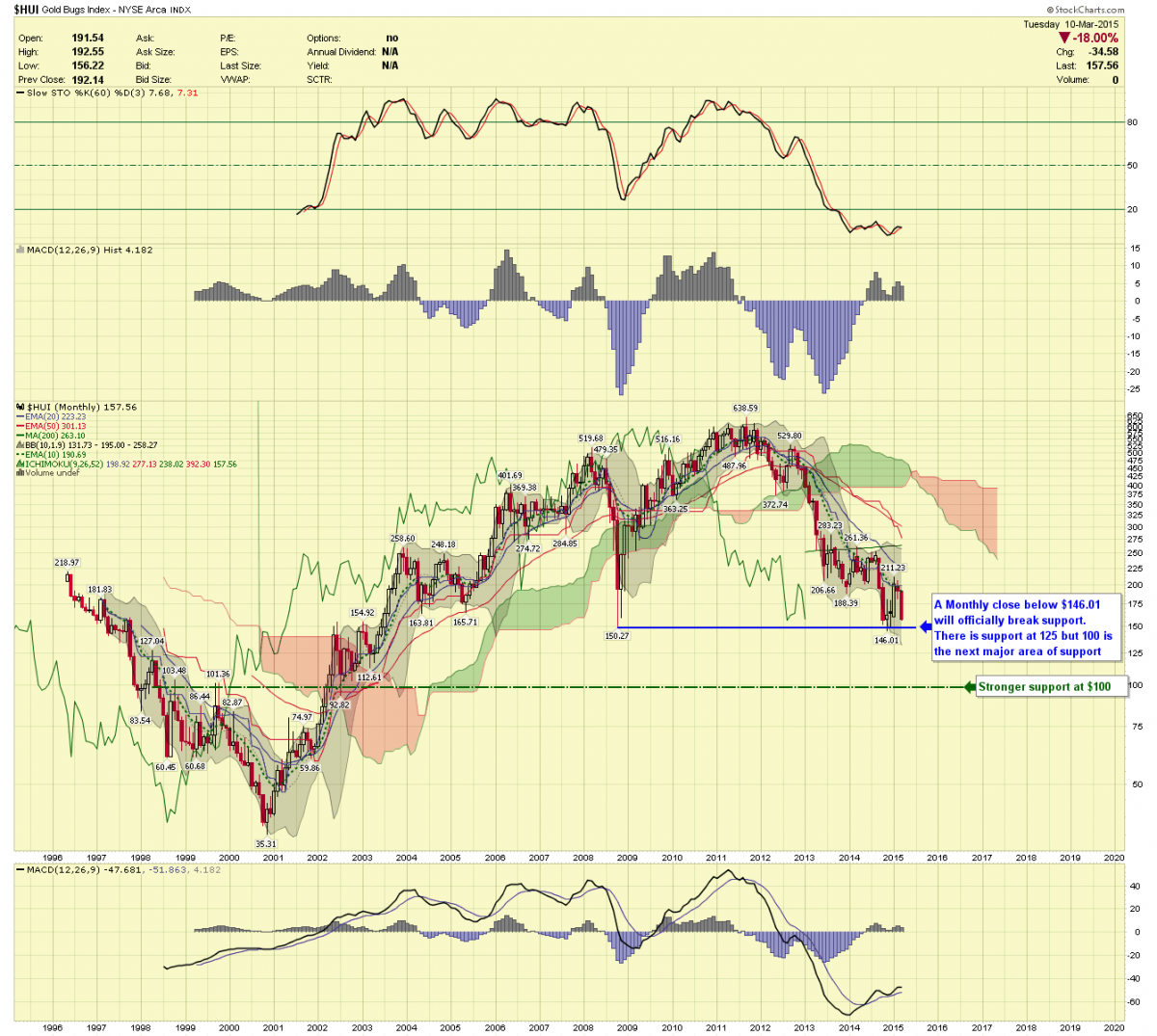 Gold price was down only slightly yesterday, but GDX closed on its lows, down over 6% for the day. Gold price is fast approaching the previous low of $16.34, and it may attempt a double bottom in that area. Next week is shaping up to be very interesting. We will update and alert our Plus and Premium subscribers between reports as needed.
GDX Daily Chart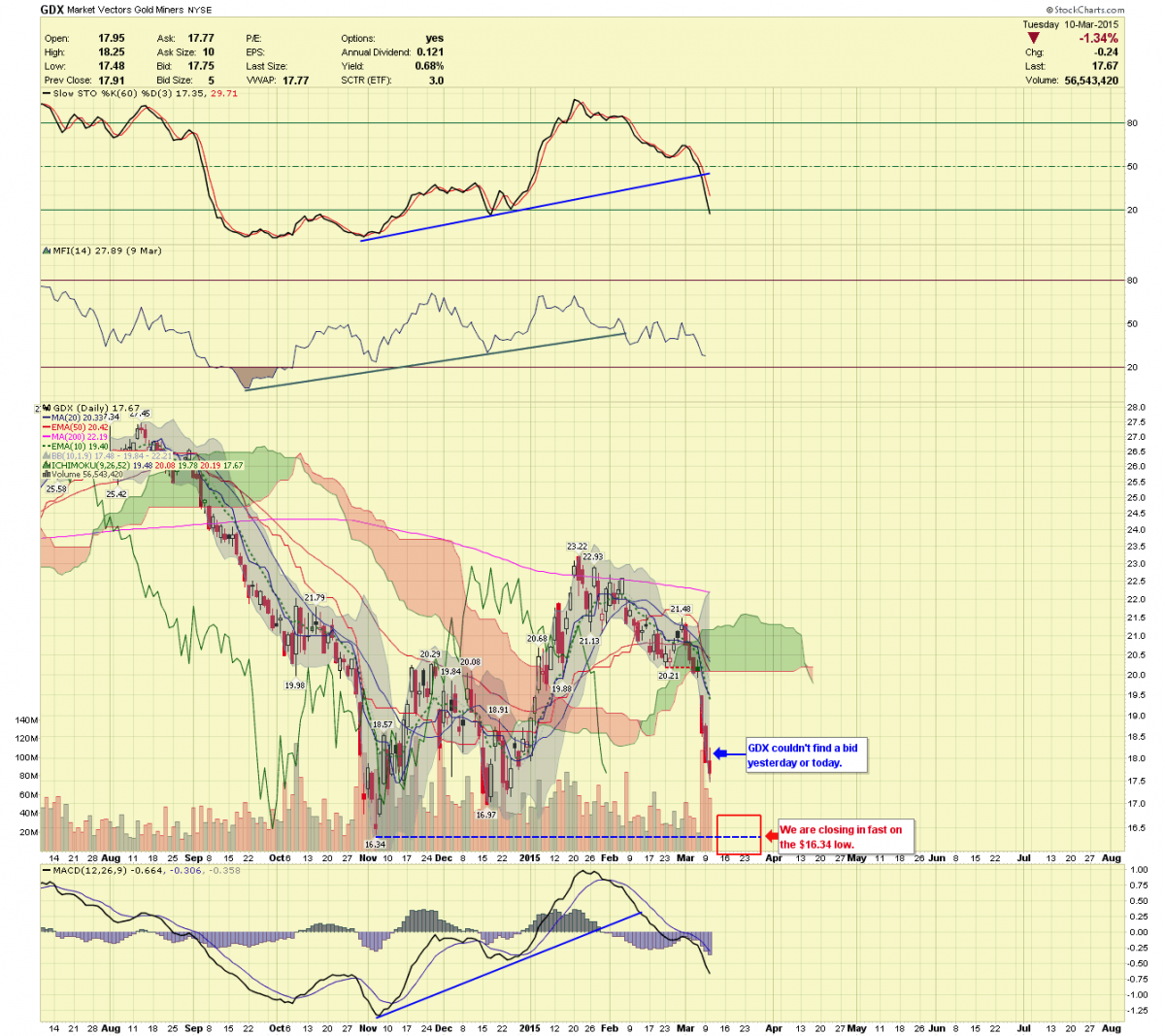 It had an enormous down day yesterday with price closing down another 4% today. It attacked the previous low, but somehow managed to close the day above the blue line. Price may extend all the way down to the $18-$17 range by next week's Fed meeting.
GDXJ Daily Chart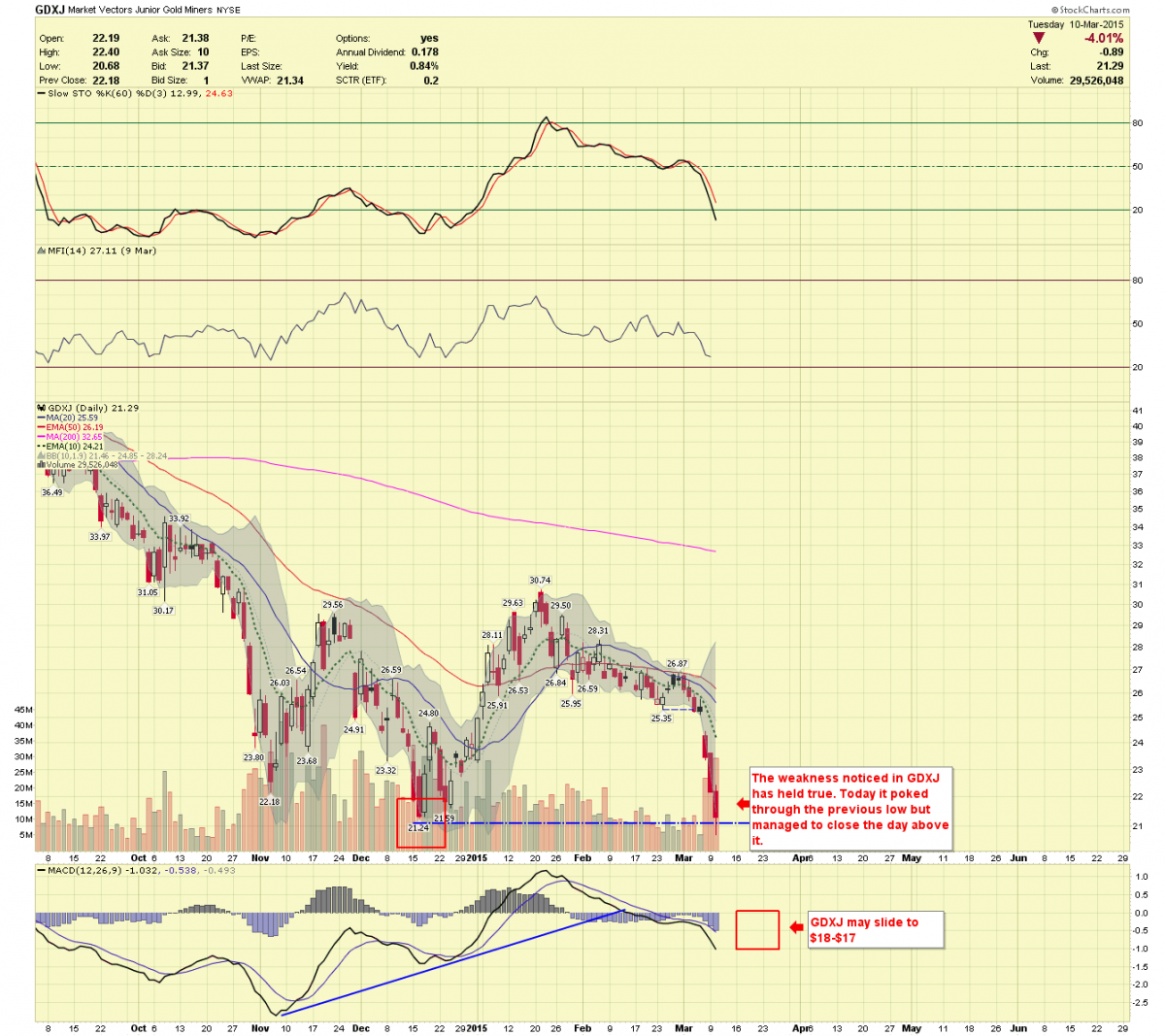 We are looking at several different setups right now for the Example Portfolios.
********
Click here for a 14-day Free Trial to our Basic Newsletter service
********
FREE Silver Phoenix 500 Newsletter!
Fresh insights on the Silver market and the economy
Leading authors from around the world
Always free
Stay informed!!
Pierce Wellington is the Senior Technical Analyst and head trading consultant at Chartseek.com. After making unwise trading decisions early in his investing career, he developed a passion for education and Technical Analysis. His pursuit for educating beginning investors started in 2012 and Chartseek.com was created after that. He has been actively trading the Gold and Silver markets for over a decade and is currently pursuing the esteemed Chartered Market Technician (CMT) designation, which he should complete by May of 2016.
More from Silver Phoenix 500: