Silver Speculator Bets Dip Lower Into Bearish Territory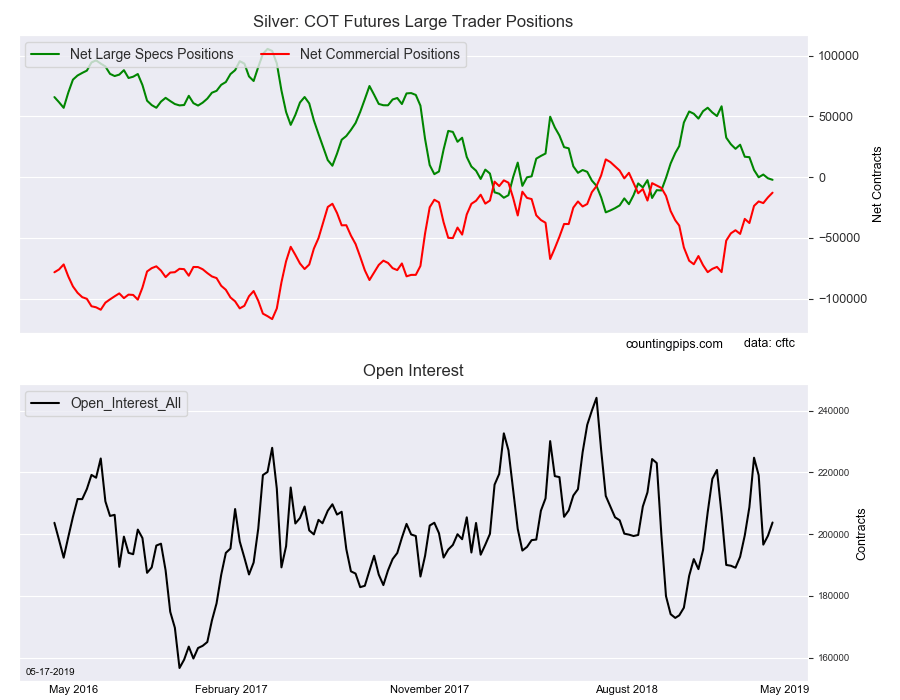 Silver COT Futures Large Trader Positions
Silver Non-Commercial Speculator Positions
Large precious metals speculators slightly added to their bearish net positions in the Silver futures markets this week, according to the latest Commitment of Traders (COT) data released by the Commodity Futures Trading Commission (CFTC) on Friday.
The non-commercial futures contracts of Silver futures, traded by large speculators and hedge funds, totaled a net position of -2,209 contracts in the data reported through Tuesday, May 14th. This was a weekly change of -1,252 net contracts from the previous week which had a total of -957 net contracts.
The week's net position was the result of the gross bullish position (longs) rising by 196 contracts (to a weekly total of 77,542 contracts) but being overcome by the gross bearish position (shorts) that increased by 1,448 contracts for the week (to a total of 79,751 contracts).
The Silver net position has declined lower for six out of the past seven weeks and now sits in a small bearish position at -2,209 contracts.
Spec positions have fallen by over -60,000 contracts in just the past 11 weeks after reaching a strong bullish level on February 26th at a total +58,313 contracts.
Silver Commercial Positions:
The commercial traders' position, hedgers or traders engaged in buying and selling for business purposes, totaled a net position of -12,778 contracts on the week. This was a weekly uptick of 3,881 contracts from the total net of -16,659 contracts reported the previous week.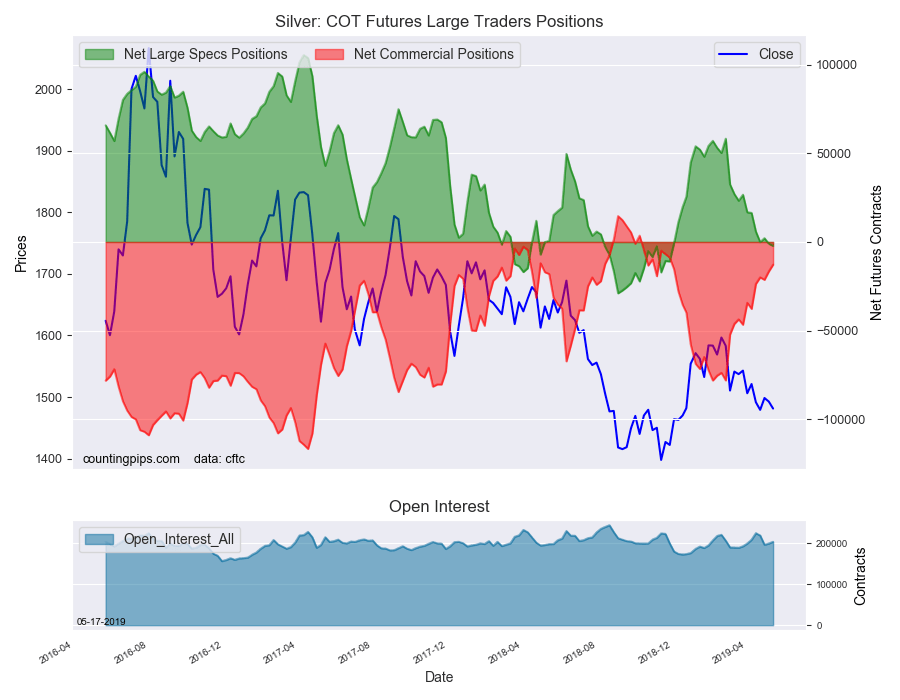 Silver COT Futures Large Trader Positions
Silver Futures:
Over the same weekly reporting time-frame, from Tuesday to Tuesday, the Silver Futures (Front Month) closed at approximately $1481.20 which was a shortfall of $-11.40 from the previous close of $1492.60, according to unofficial market data.
More from Silver Phoenix 500