Silver Speculators Pushed Bets Further Into Bearish Territory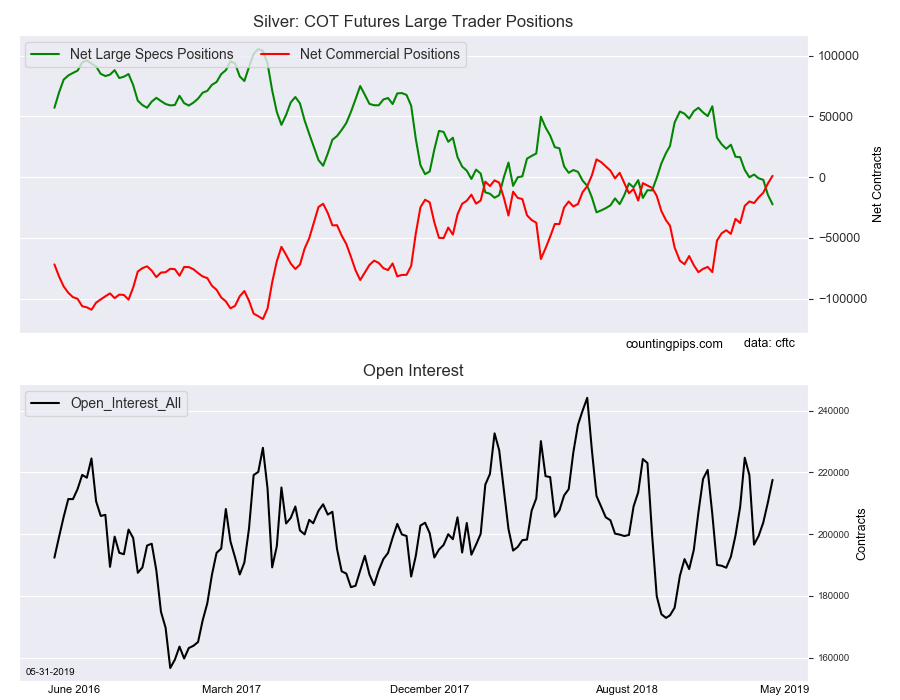 Silver COT Futures Large Trader Positions
Silver Non-Commercial Speculator Positions
Large precious metals speculators continued to add to their bearish net positions in the Silver futures markets this week, according to the latest Commitment of Traders (COT) data released by the Commodity Futures Trading Commission (CFTC) on Friday.
The non-commercial futures contracts of Silver futures, traded by large speculators and hedge funds, totaled a net position of -22,409 contracts in the data reported through Tuesday, May 28th. This was a weekly change of -7,747 net contracts from the previous week which had a total of -14,662 net contracts.
The week's net position was the result of the gross bullish position (longs) tumbling by -1,819 contracts (to a weekly total of 73,663 contracts) while the gross bearish position (shorts) increased by 5,928 contracts for the week (to a total of 96,072 contracts).
The net speculative position fell for a fourth straight week and for the eighth time out of the past nine weeks.
Silver positions had come off the mat sharply after the last time they were negative in the fall (into early in December). Rising to +58,313 contracts on February 26th marked the high-point in the last run-up from late December. The sentiment and market price have both now quickly dropped back down to their lowest levels since the prior negative period.
Silver Commercial Positions
The commercial traders' position, hedgers or traders engaged in buying and selling for business purposes, totaled a net position of 1,115 contracts on the week. This was a weekly advance of 6,298 contracts from the total net of -5,183 contracts reported the previous week.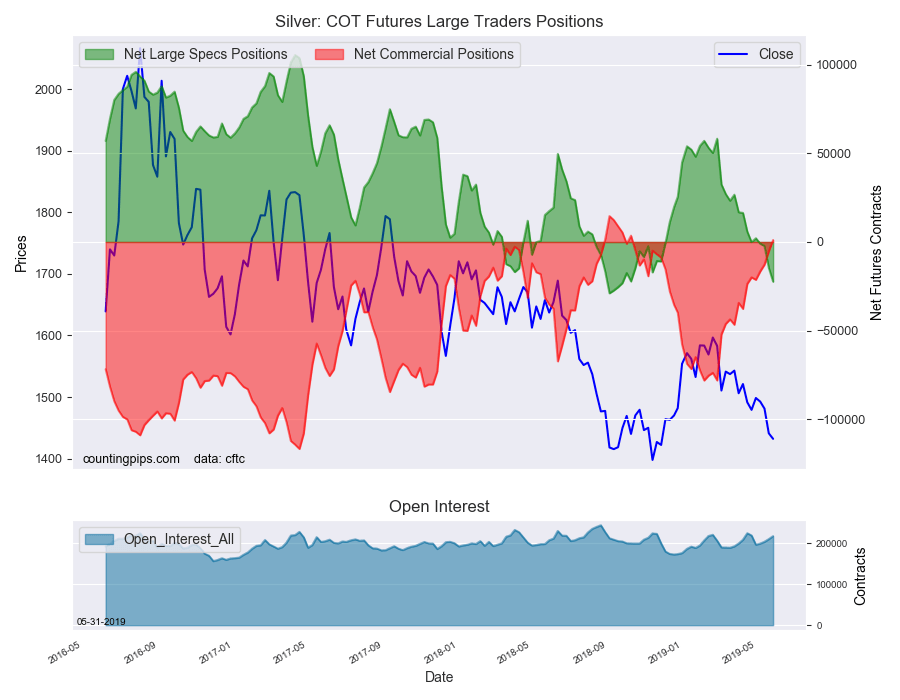 Silver COT Futures Large Trader Positions
Silver Futures
Over the same weekly reporting time-frame, from Tuesday to Tuesday, the Silver Futures (Front Month) closed at approximately $1432.00 which was a shortfall of $-9.00 from the previous close of $1441.00, according to unofficial market data.
*********
More from Silver Phoenix 500