Why Yesterday's 600-Point Plunge Wasn't Quite Enough
It may have felt like stocks were free-falling Wednesday, but for many of us who were short, making 'easy' money was like pulling teeth for most of the day. The broad averages jerked around for hours after falling hard in the early going. As the morning wore on, it felt at times as though DaBoyz were going to muscle shares back to unchanged. They failed at this, however, because shorts hung tough, resisting being spooked into a doing the heavy lifting for bulls.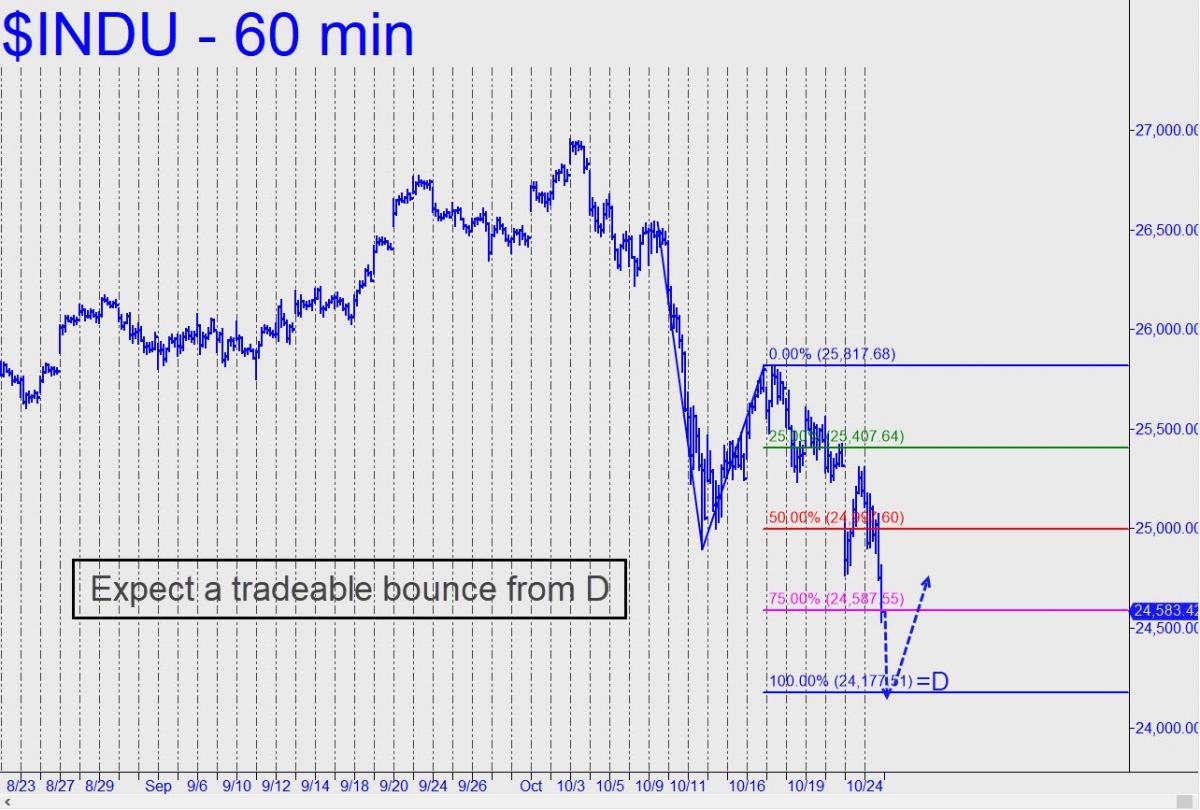 But the fun part of the day didn't come until the final hour, when the Dow doubled its losses from earlier lows. Some Ricks Picks subscribers still held a bearish put spread I'd recommend on October 12. It was a longshot bet at the time, but we were getting 8-to-1 odds. The bet was on a 700-point decline in the Dow, and it has paid off nicely even if it took a week for it to snowball.
8000-Point Dow Selloff 'About Right'
To determine whether you could have done the spread yourself, check out the Rick's Picks Facebook page by clicking here. The video is dated October 12 and appears under the headline Stocks Have Further to Fall — Here's a Cheap Bet to Play It.  My gut feeling is that the so-far mini-crash needs a washout before the stock market can launch into a sustained uptrend. That would be in the context of a likely bear market, however, and although we mght go profitably with the bullish flow for a while, we would not want to be on board when stocks turn lower with renewed vengeance. Bear rallies are supposed to scare the hell out of shorts, so be prepared for some spectacular ones in the months ahead. Concerning the washout needed to create a temporary bottom, use the 24,177 target shown in today's chart. The implied 400-point drop wouldn't be as satisfying as the 6000-point selloff needed to fully discount the looming crash in housing and autos, but it would be a start.
Click here for a free two-week trial and head for the chat room, where great traders from around the world swap actionable ideas 24/7.
More from Silver Phoenix 500