Are You Ready For The Next Rally In Silver?
COMEX silver prices are largely unchanged year-to-date, despite a falling U.S. dollar and historically bullish CoT structure. So today we ask, are you ready for the next rally?
If the title of this post sounds familiar, it should. We posed a similar question regarding gold back in December, and you can review those posts here:
• Are You Ready For The Next Rally?
Those forecasts of an early 2018 rally in gold prices turned out quite well, as COMEX gold bottomed near $1,240 on December 12 and then rallied to $1,365 on January 25. That's almost exactly 10% in about six weeks.
Well, here we are in March of 2018, and it appears that the next COMEX metal to rally will be silver. We wrote about the basis of this idea last week. Here's the link if you missed it.
In short, the three primary drivers of this rally will be continuing weakness in the U.S. dollar, generally rising commodity prices and the aforementioned Commitment of Traders structure that recently showed the Large Speculators in COMEX silver to be NET short for the first time in nearly 15 years.
As you know by now, the COMEX silver "market" is very likely THE most manipulated in the world, given its relatively small size and the dominant, monopolistic positions held by a few major banks. See below: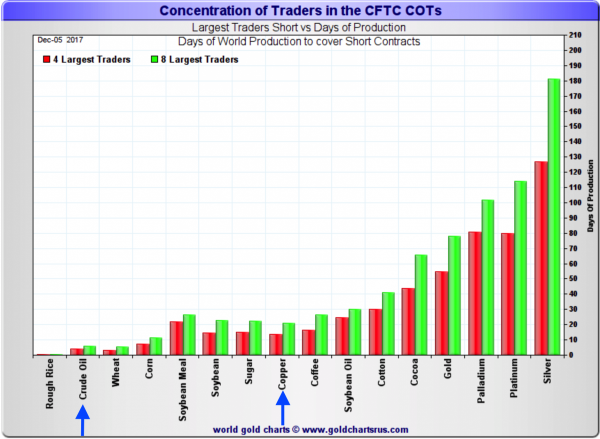 Thus, one can logically deduce that a market structure of hedge funds and managed money accounts moving NET short, while the Banks move toward NET long, is a pretty reliable indicator that a rally is coming.
*********  
More from Silver Phoenix 500