How To Trade Gold, Silver & Precious Metal Miners
How to trade Gold and other precious metals related investments is not that complex. But you must be willing to wait for price to provide low risk entry points before getting involved. Precious metals are like any other investment in respect to trading and investing in them. There are times when you should be long, times to be in cash and times to be short (benefit from falling prices).



Since 2011 when gold and silver started another major bull market correction the best position has been to move to cash or sell/write options against your positions to protect your investment until the next trend resumes. 



If you take a look at the chart below of gold you will notice that in 2008 we had a similar breakdown in price which purged the market of investors who where long gold. And if you compare the last two breakdowns they look very much the same.  If price holds true then much higher prices are likely to unfold at the end of 2013.



The key here is for the price to move and hold above the major resistance line. If it can do that then we are looking at a possible breakout to $2600 - $3500 gold. With that being said gold and silver may just be starting a bear market. Depending what the price of gold does when my resistance level is touched, my outlook may change from bullish to bearish.



Also with last weeks economic numbers getting better in the USA I do have concerns that gold may be starting a bear market but we will not know for several more months yet.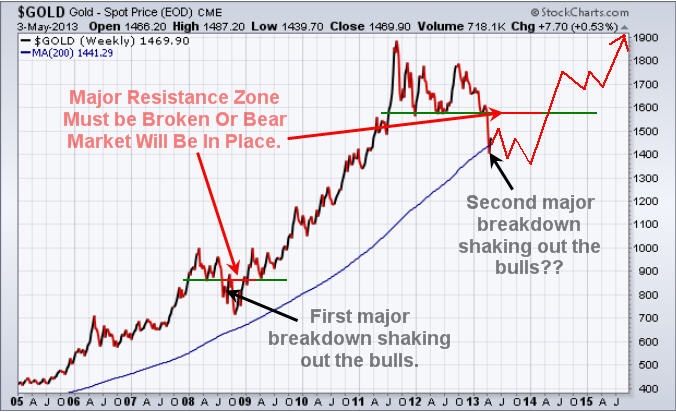 Gold Daily Technical Chart



Major technical damage has been done to the chart of gold. This can be seen as bullish or bearish price action but until price and volume pattern unfolds which puts the odds on the bullish or bearish side I remain neutral.
Silver Daily Technical Chart



Silver is in the same position as gold. The question is if this is a shakeout or breakdown…

 
Gold Mining Stocks Daily Monthly Chart



Gold mining stocks broke down a couple months ago and continue to sell off. If precious metals continue to move lower then mining stocks will continue their journey down. The chart below made in February and it has in most part played out as expected. While I do not try to pick bottoms (catch falling knives) I do like to watch for them so I am prepared for a new position when the time and chart become bullish.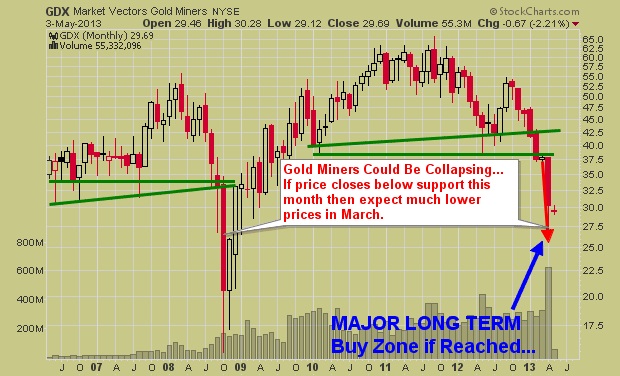 How to Trade Gold, Silver and Mining Stocks Conclusion



In short, precious metals continue to be in a down trend. While they look to be trying to bottom it is important to remember that the largest moves take place in the last 10% of a trend. So we may be close to a bottom but there could be sharply lower prices yet.



The time will come when another major buy or short signal forms and when it does we will be getting involved. The exciting part is that it could be just around the corner. If you want to keep current and take advantage of the next major move be sure to join me free newsletter here: http://www.GoldAndOilGuy.com/





 
********
Disclaimer:

This material should not be considered investment advice. Technical Traders Ltd. and its staff are not a registered investment advisors. Under no circumstances should any content from this website, articles, videos, seminars or emails from Technical Traders Ltd. or its affiliates be used or interpreted as a recommendation to buy or sell any type of security or commodity contract. Our advice is not tailored to the needs of any subscriber so go talk with your investment advisor before making trading decisions This information is for educational purposes only.
More from Silver Phoenix 500