A Perfect Storm To Titillate Permabears?
If you've been waiting for Mr. Market to spring the Mother of All Bull Traps, check out today's chart. What a beauty this picture will be if Monday's sharp reversal turns out to be the start of The Big One.  Granted, odds of getting the timing of so important a peak exactly right will always be against technical swamis. But the chart has enough going for it that permabears could be forgiven for thinking they might finally be right.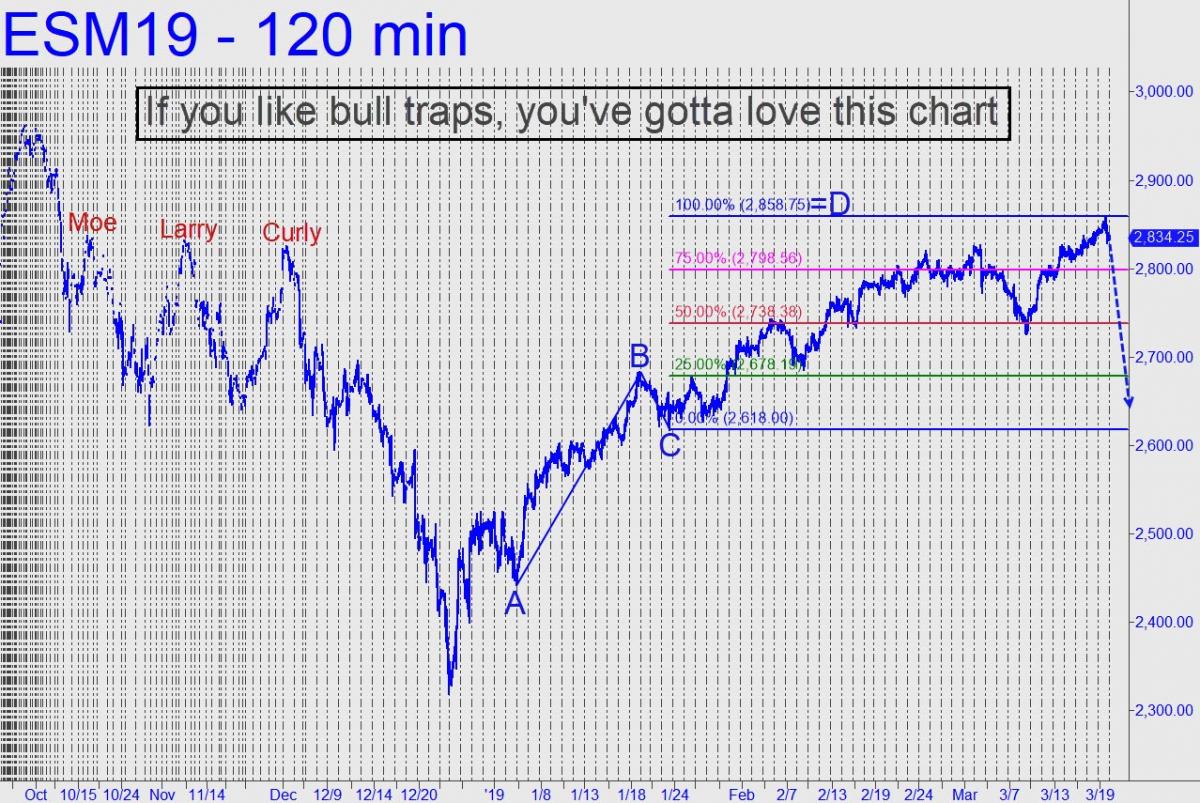 For starters, notice how the C-D leg of the bull cycle begun in December topped today at exactly 2858.75, a target sent out to subscribers in early February. The ensuing, 30-point plunge tells us that for some reason, sellers were spooked. If the intraday high turns out to be the bull's last gasp, it picked an interesting place to occur — i.e., just above three important peaks labeled Curly, Larry and Moe in the chart. They were recorded, respectively, in October, November and December, and any rally that surpassed them, especially without correcting, was bound to get the attention of bulls who have been sitting on the fence. The three-peak breakout also would have spooked more than a few bears into covering short positions.
An Important Caveat
Add in the fact that the Fed on Wednesday is expected to mumble something dovish, and you have a perfect storm of bullish deceptions. If you're a contrarian and a pessimist, the set-up looks irresistible. However, a very important caveat must be added: If the futures blow past the 2858.75 target in just a few days after having taken ten weeks to reach it, bears had better dive for cover, since that would be signaling more upside to at least 3,000 for the S&Ps and a further thousand-point rally in the Dow. 
If you don't subscribe, click here for a free two-week trial that will give you access to everything. And please do stop by the Trading Room to say hello.
********
More from Silver Phoenix 500