Rocky Start For Stocks And Mixed For Metals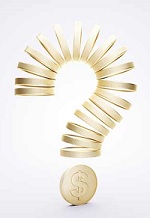 Last time markets were this oversold we saw the S&P500 rally over 80 points in a few days…so I did buy some long positions late Thursday which so far, are not working great.
Stock market action is not at all great…and does point to a deeper correction…but not an end to the current bull market.
Consequently, we may be in for a tough year, if you are only trading the long side.
I'll trade long or short and make money whatever happens, unless we see sideways markets which are very hard to make money in.  However, I don't see that as being a reality in 2016.
We should see lots of volatility so we should have a good year.
Let's dive into the metals who had a good week but I still do not see the major low as being in place yet… so I wouldn't overstay your welcome in any recent long positions.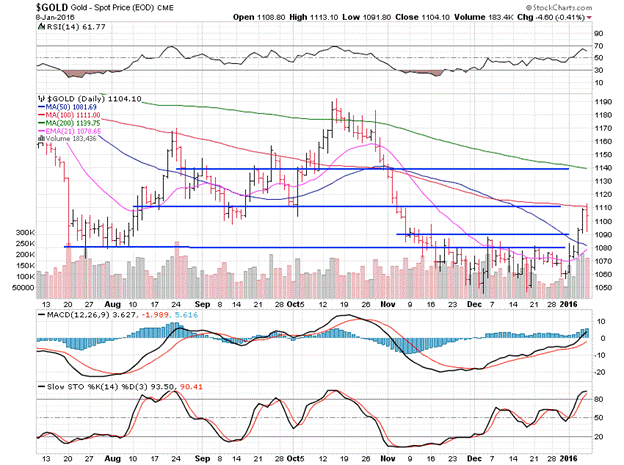 Gold gained a solid 4.11% the first week of 2016. Great action out of the range and above the major $1,080 pivot area and then above $1,090.  We're now at the 100-dma and horizontal resistance at $1,110 …and we are consolidating as expected.
Above we've got the 200-dma and horizontal resistance at $1,140.  Consequently, we just have to watch the action now and see if gold tightens up and presents a setup for the next leg higher, or if this move fizzles out.  I still think we really need to see the $1,000 level hit before we can consider a trend change to up.
Silver is not confirming the move up in gold…so that is a strike against this move being able to last.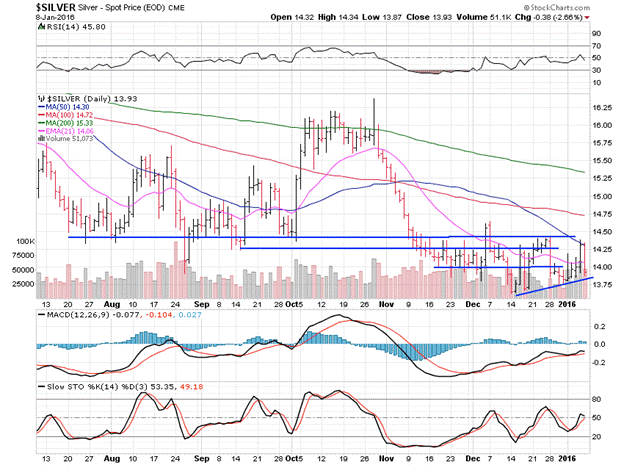 Silver gained only 0.72% as it tries, but so far is failing, to follow gold higher. If silver can't get going above $14.50 then gold has no chance at a sustainable move at all.
Silver remains in the range between $14.50 and $14 to $13.75 and will until it won't.
Not much else to say about silver…but the main point is it has to move or gold will quickly fall back into its range.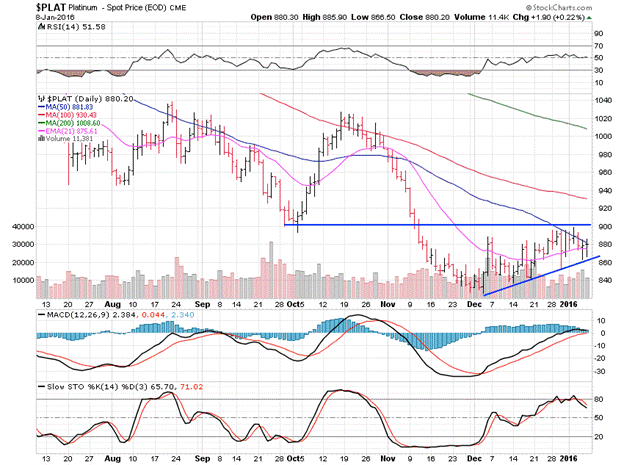 Platinum lost 1.42% as it nears completion of this triangle which points to a break lower. A move lower would make sense since silver is not confirming the gold move. Consequently,  I still think shorting is the best trade to look for in terms of precious metals.
The $900 area can be shorted off of with a smaller position size and then a full short position once the rising trend-line is broken, which is the lower side of this continuation pattern triangle which points to a breakdown.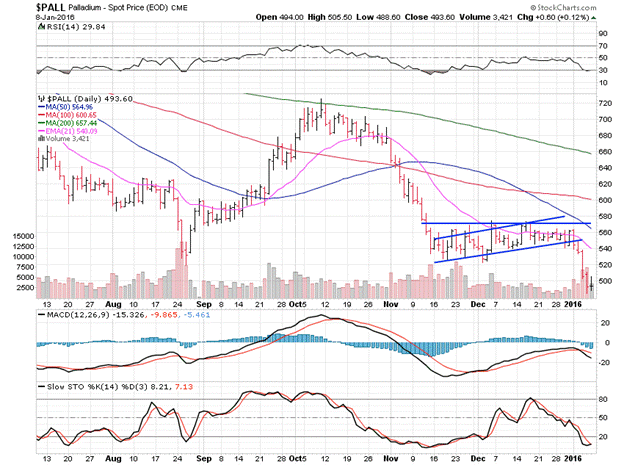 Palladium lost a hefty 12.17% to kick off 2016 -- and it did so on very heavy volume. $475 is support -- and if that level is broken, then it looks to $425…and then $390 as the next major support levels and those are on the weekly charts and date back to 2010 and 2008, respectively.
In summary, the metals are mixed with gold trying to lead to the upside, while palladium is trying to lead to the downside with silver and platinum as indecisive.
As I've said many times, I think gold needs to put in a low at the $1,000 area…so until that occurs the major trend will most likely remain down.
******** 
In my free, nearly weekly newsletter I include many links and charts which cannot always be viewed through sites which publish my work.  If you are having difficulties viewing them please sign up in the right margin for free at www.wizzentrading.com or send an email to warren@wizzentrading.com with "subscribe" as the subject and receive the newsletter directly in your inbox, links and all.  If you would like to subscribe and see what my portfolio consists of please see here.
If you found this information useful, or informative please pass it on to your friends or family. 
Free Service
The free weekly newsletter "Wizzen Trading" does not purport to be a financial recommendation service, nor do we profess to be a professional advisement service.  Any action taken as a result of reading "Wizzen Trading" is solely the responsibility of the reader.  We recommend seeking professional financial advice and performing your own due diligence before acting on any information received through "Wizzen Trading".
More from Silver Phoenix 500