Technical Stock Market Report
The good news is:  Most of the major indices closed at all time or multi year highs Friday.
The negatives:  The market is overbought.  All of the major indices are up around 6% so far this month and many of them have been up for 8 consecutive days.
Seasonality for the coming week has been negative.
The positives:  New highs have been adequate, but unimpressive while new lows have been minimal.
The chart below covers the past 6 months showing the NASDAQ composite (OTC) in blue and a 40% trend (4 day EMA) of NASDAQ new highs divided by (new highs + new lows), OTC HL Ratio, in red.  Dashed horizontal lines have been drawn at 10% levels for the indicator.  The line is solid at the neutral 50% level.
OTC HL Ratio finished the week at a very strong 81%.
There are trading systems that impose a No Sell Filter when variations of this indicator are above 80%.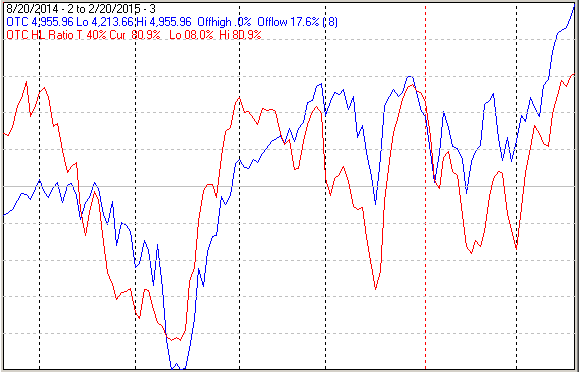 The next chart is similar to the one above except it shows the S&P 500 (SPX) in red and NY HL Ratio, in blue, has been calculated from NYSE data.
NY HL Ratio finished the week at a very strong 93%.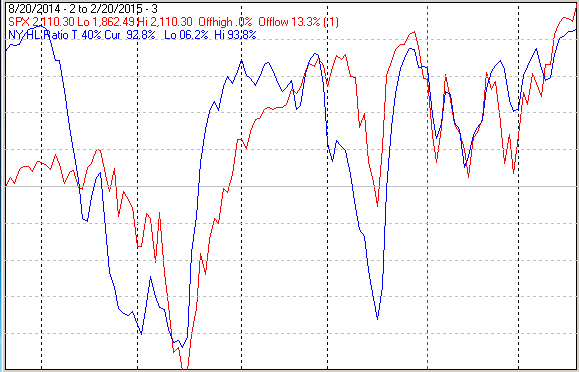 Money Supply (M2)
The money supply chart was provided by Gordon Harms.
M2 growth fell back to the trend line last week.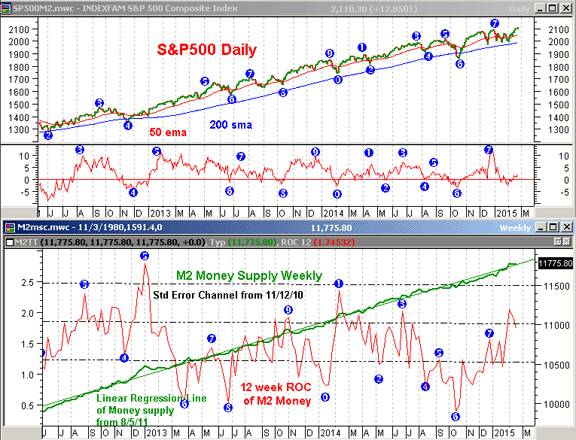 Conclusion
After a hiccup in January the market has been following the seasonal pattern for the 3rd year of the Presidential Cycle pretty closely.  That pattern calls for a little consolidation prior to a very strong March.
I expect the major averages to be lower on Friday February 27 than they were on Friday February 20.
********
Disclaimer: : Charts and figures presented herein are believed to be reliable but I cannot attest to their accuracy.  Recent (last 10-15 yrs.) data has been supplied by CSI (csidata.com), FastTrack (fasttrack.net), Quotes Plus and the Wall Street Journal (wsj.com).  Historical data is from Barron's and ISI price books.  The views expressed dare provided for information purposes only and should not be construed in any way as investment advice.  Furthermore, the opinions expressed may change without notice.
You may reproduce these letters provided you include a citation along with a link to the subscription page: http://www.stockmarket-ta.com/signup.html
Mike Burk began developing equity trading systems in the early 1980's. Through the 1990's he marketed an equity trading system called MIRAT based on breadth indicators, but, primarily new lows. In the early days of this century he developed the seasonal trading strategies currently used by Alpha Investment Management of Cincinnati. Mr. Burk has been writing equity market newsletters since the early 1990's. During the past 10 years the letter observes both breadth and seasonal strategies.
More from Silver Phoenix 500: